---

FOR SALE
• Stallions
• Mares
• Geldings
• Homozygous
• Quarter Horses
• Reining Horses
• Barrel Horses
• English Performance/Sport


• Testimonials

• Trailers for sale

---

STALLIONS


•

At Stud


---

SOLD




•

Sales List


---

MAP




•

Directions


---

EMAIL




•

Robbie@texaspaints.com


---


HOME

=
Riding Horse


APHA BLACK AND WHITE TOBIANO, SPIN CIY



SPIN CITY


1999 APHA Black and White Stallion. 14.3 hand power house. An Excellent bred colt to breed for reining and cattle working events. Smart as a whip and eager to please. His sire is Sonnys Amigo Bar and his dam is one of our finest quarter horse mares Nu Doc Patti. She has Doc Bar on her papers 3 times. She is a grand-daughter of NU BAR and Freckles Playboy. This coal black and white colt is bred like few other paint stallions on the market today. He is extremely nice easy going, and VERY athletic. He has perfect conformation and a beautiful head. Shows immense talent and extremely quick to learn. A favorite in the barn for sure. We have left him a stallion due to the popular demand for his foals. They are the best, great minds and beautiful! Spin City is a seasoned ranch horse just chocked full of cutting ability. Amber rides him sorting and no one can believe he is lst of all a stallion with such a good mind and secondly he cuts like a retired cutting horse with years of training. A stallion that passes on his smarts and looks. Fee: $500, Mare Care = $10 Dry or$15 Wet/Day. Current Coggins and copy of the papers due at breeding. Available for purchase for a limited time only: $10,000
AQHA GRAY STALLION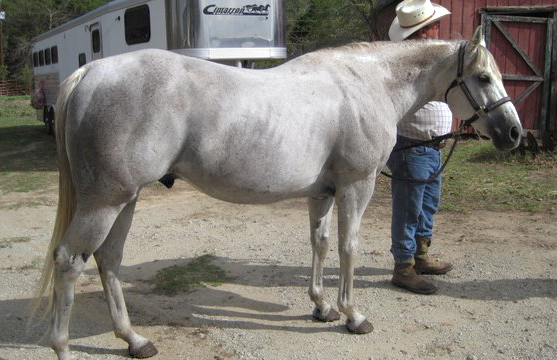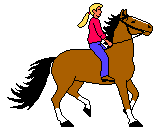 1997 AQHA Gray Stallion
He is a 1997 riding model and probably the closest thing to Three Bars Alive today. His sire, Sport Bar's was an OWN SON of the famous THREE BARS. That means every baby he has will have Three Bars right on the papers. To make him even more attractive to those trying to raise barrel and running horses his dam Miss Shawne Rocket, had a 101 Speed Index and is an own daughter of SHAWNE BUG. BLUE is sound and ready to breed this coming season. I truly feel he is the chance of a lifetime. Check back on Literally EVERY horse paper that amount to anything and Three Bars is there!!!!! a steal at $6500 For a view of his papers,
click here.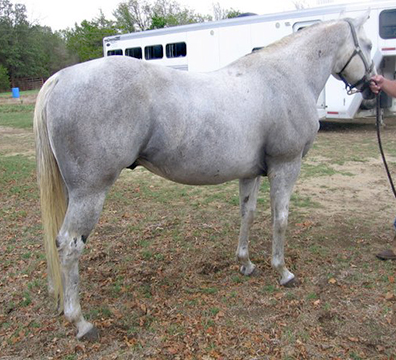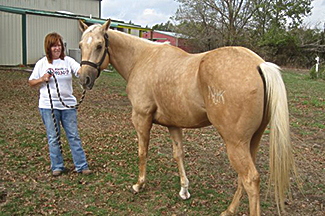 Picture of palomino is one of Blue's sons.



Buck and Robbie Hesskew
903.829.5204
241 VZCR 1209
Canton, TX USA 75103
FOR SALE:
STALLIONS | MARES | GELDINGS | QUARTER HORSES | HOMOZYGOUS | REINING/CUTTING HORSES | BARREL HORSES | TRAILERS


STALLIONS AT STUD | SOLD HORSES | MAP | EMAIL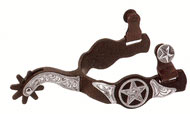 2004©Hesskew Copyrighted by law absolutely no pilfing of any material.

This site created and maintained by:
G I D D Y A P G R A P H I C S